Welcome to the Institute for Information Management in Engineering
The innovative art of thinking for efficient solutions in Engineering
The effective and efficient management of information throughout engineering processes is of essential importance for the economical sucess. The Institute for Information Management in Engineering supports enterprises by providing innovative and practical IT-solutions and methodologies. Thus ensuring successful and sustainable competitive advantage in research and industry.
Our research fields Process Management (PM), Artificial Intelligence (AI), Smart Immersive Environments (SIE) and Digital Twin (DT) complement one another towards a holistic approach for intergrating process- and system information in an unified product knowledge model.
The novel Center for Artificial Intelligence Talents (CAIT) offers a platform for interdisciplinary research at KIT and a framework for technology transfer into industry. Our field of expertise is enhanced by our research group for Process and Datamanagement in Engineering (PDE) at the Research Center for Information Technologies (FZI).
CAD training with tradition
For more than 15 years, CAD courses have been offered at the IMI (until 2003 RPK) as part of the engineering training at the Faculty of Mechanical Engineering. Between the lecture-times, two of the latest CAD systems are currently being offered with CATIA and Siemens NX courses, which are becoming increasingly popular. In addition, SolidWorks is used in several lectures.
In two pool rooms with state-of-the-art workstations, the students have the opportunity to gain knowledge about these programs, which they can access in their later professional life.
Future Mobility Open Labs 2022
Together with the KolabBW consortium, IMI presented its current results in the area of the "InnovationCampus Mobility of the Future (ICM)" at the "Future Mobility Open Labs" at KIT on Wednesday, October 12, 2022.
To the event
DIVR Award Expo 2022
On the occasion of the presentation of the DIVR Science Award, the DIVR Award Expo is held annually in Dortmund. IMI was represented with the award nominated project"DigITSimulator" - a VR training system for the control of tunnel boring machines.
mehr
XR Week 2022 in Stuttgart
Als Teil des Projektkonsortiums von "KolabBW" ist das IMI auf der diesjährigen XR Week vom 14.09. -16.09.2022 vertreten und präsentiert den aktuellen Stand des Projekts.
Link_more
Tag der jungen Innovatorinnen und Innovatoren am 10. Juni 2022 im Senatssaal des KIT
Auf Initiative der von Frau Professorin Jivka Ovtcharova und des Vorstandsvorsitzenden des Senate of Economy Europe, Dr. Walter Döring, bot dieser Tag 12 StartUps die Gelegenheit zur Präsentation ihrer Unternehmen vor einer großen Zahl von Senatorinnen und Senatoren des Senate of Economy Europe. Alle Teilnehmer*Innen waren begeistert und sind sich einig, dass diese StartUps künftig sehr erfolgreich sein und Deutschland im internationalen Vergleich weiter technologisch an der Spitze halten werden.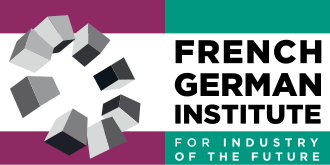 Anniversaries of 5 years of the French-German Institute for Industry of the Future and 25 years of double degree program
In 2022 KIT and Arts et Métiers will celebrate the 25th anniversary of their French-German double degree program with more than 850 double graduates in Mechanical Engineering and Industrial Engineering. The year 2022 also marks the 5th anniversary of the French-German Institute for Industry of the Future, which aims to bring together academics, researchers, industry, start-ups and students in a collaborative platform and to strengthen research, innovation and higher education for lndustry of the future.
more
KIT Science Week on 9 October 2021
IMI opened its doors to visitors and provided insights into current research areas and everyday applications. Citizens were specifically invited under the motto "Humans at the centre of learning systems". Research projects were impressively demonstrated, e.g. in the CAVE (see photo).
more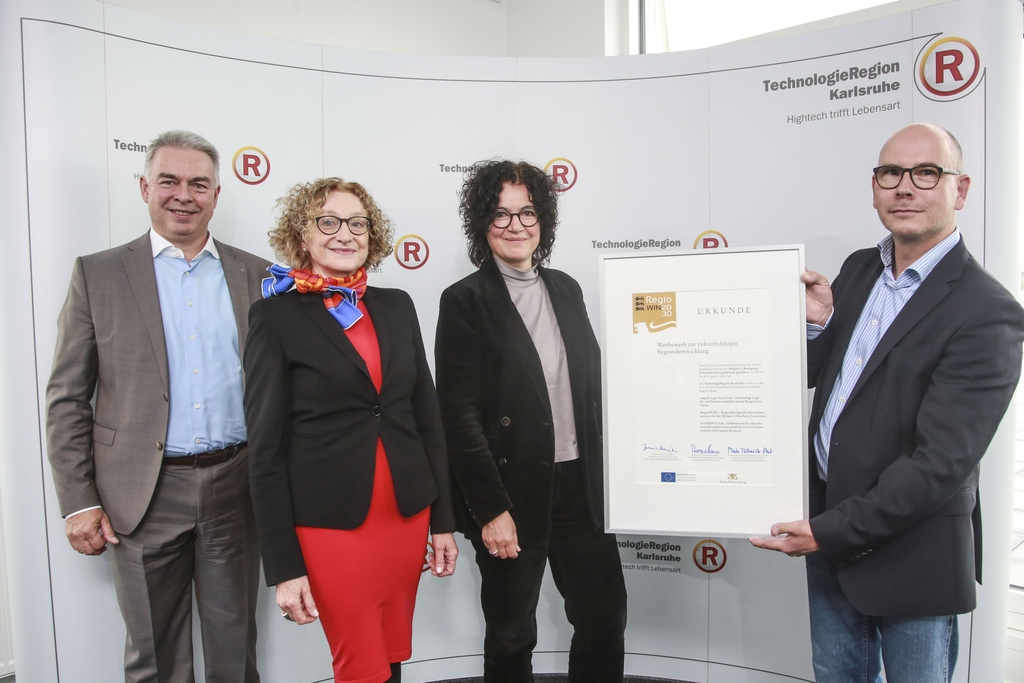 Award certificate for RegioMORE handed over
The presentation of the RegioWIN award certificates took place at TechnologieRegion Karlsruhe GmbH on 07.10.2021. Dr. Arndt Oschmann, Head of the Department "Control ERDF - European Regional Development Fund" in the Ministry of Economics, Labour and Tourism Baden-Württemberg, came to Karlsruhe in person.
With the award-winning and funded project "RegioMORE", a real novelty is being created in Bühl: a "Digital Ecosystem" in which the regional strengths in the areas of digitalisation, (e-)mobility and resource efficiency as well as skilled labour development, citizen participation, and securing the location and the future will flourish sustainably. "Digitalisation should be lived," emphasised Prof. Jivka Ovtcharova, co-initiator of the project.
more
ViEW-BW at the Colloquium Environmental Research 2021
The Colloquium Environmental Research took place on 06 July 2021 in an innovative, virtual format under the motto "Impulses for Environmental Policy". The event focused on the environmental research and energy transition projects funded by the Ministry for the Environment, Climate and Energy Management Baden-Württemberg.
more
Bachelor-Arbeit mit BIM-Award 2021 ausgezeichnet
Im Rahmen einer am 25.01.2021 stattgefundenen Online-Veranstaltung hat BW-Verkehrsminister Winfried Hermann sechs Preisträger mit dem "Building Information Modeling"-Award 2021 für herausragende Forschungsarbeiten zur Digitalisierung im Straßenbau ausgezeichnet. Wir freuen uns mit Katharina Schmucker über den ersten Platz in diesem Wettbwerb!
3D simulation of historical mechanics
As part of the research project on "Methods for 3D digitization of cultural monuments of technology as sources of the history of technology", Erika Érsek, Victor Häfner and Anne-Christine Benedix presented the latest developments on the topic of mechanical simulation at the Gyrolog conference of the University of Stuttgart on 4 January 2021.
more
KI unterstützt Fachkräfte bei der Montage
Kimoknow, eine Ausgründung des KIT/IMI, entwickelt digitalen Montageassistenten – Basis ist die automatisierte KI-gestützte Objekterkennung
mehr