SkillPro
contact:

funding:

EU - FP7-2012-NMP-ICT-FoF

Partner:

IPR (KIT), AkÈo Plus ACTIMAGE, DDE, FAUDE, FZI, IOSB (Fraunhofer), KMET, LMS (University of Patras), RBCT, TECNALIA, VIS

startdate:

01/10/2012

enddate:

30/09/2015
SkillPro
Skill-based Propagation of "Plug&Produce"-Devices in Reconfigurable Production Systems by AML (Grant 314247, Call FP7-2012-NMP-ICT-FoF)
Objectives
The objective of SkillPro is to bring the vision of a smart reconfigurable manufacturing systems into application. It considers a modern production system as a combination and collaboration of cyber-physical assets that offer different skills. SkillPro provides an extension of the Plug-and-Produce paradigm using knowledge about the skills of the diverse automation system components and about their composition and cooperation and is based on the open standard of AutomationML. The main objectives of SkillPro:
Significant reduction of ramp-up time, due to the Skill-based propagation of "Plug&Produce"-devices in reconfigurable production.

Extensive reduction of process planning effort and production lead-time, due to the automated process planning capabilities of production system, as well as the re-configurability of the production resources.

Noticeable reduction in costs related to energy consumption in existing manufacturing systems (short term savings) by the selection of the most suitable production processes and resources and by increasing the Overall Equipment Effectiveness.

Increase production flexibility, through improved reconfigurability of the production system.

Increase of market share, due to the shorter ramp-up time for new product models.
Research Strategy & Solution Statement: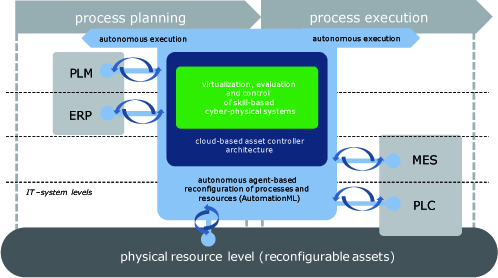 The objective of the first work package is to specify the requirements of the SkillPro framework as well as the underlying methodology. The next step is meant to define the functions and architecture needed in order to realize the project's software components. These components will provide a framework for the skill-based propagation of 'Plug & Produce'-Devices in flexible production system by AML. After develop, implement, test and validate the cloud-based Asset Management System an agent-based Manufacturing Execution System has to be realized.
Furthermore the Skill Execution Engine for autonomous task execution has to put into practice. The objective of the last step is the development and validation of the SkillPro framework. There for the effectiveness of the SkillPro framework will be evaluated in real-world scenarios. It is our goal that SkillPro will significantly contribute to the wider adoption of technological advances within the area of robotics, machines and automation. There for the project consortium will form a carefully targeted Exploitation strategy to maximize the impact of the developed SkillPro solutions.
Consortium