Lernfabrik 4.X
type:

Practical course

:

Master

chair:

Institut für Informationsmanagement im Ingenieurwesen

semester:

WT 20/21

place:

Zoom (Link below)

time:

Thursday 14:00-15:30

start:

05.11.2020

lecturer:

Prof. Dr. Dr.-Ing. Dr. h. c. Jivka Ovtcharova

Dr.-Ing. Victor Häfner

ects:

4

information:
Experience the creation of a product, from concept to manufacturing, and help plan production in an immersive CAVE facility.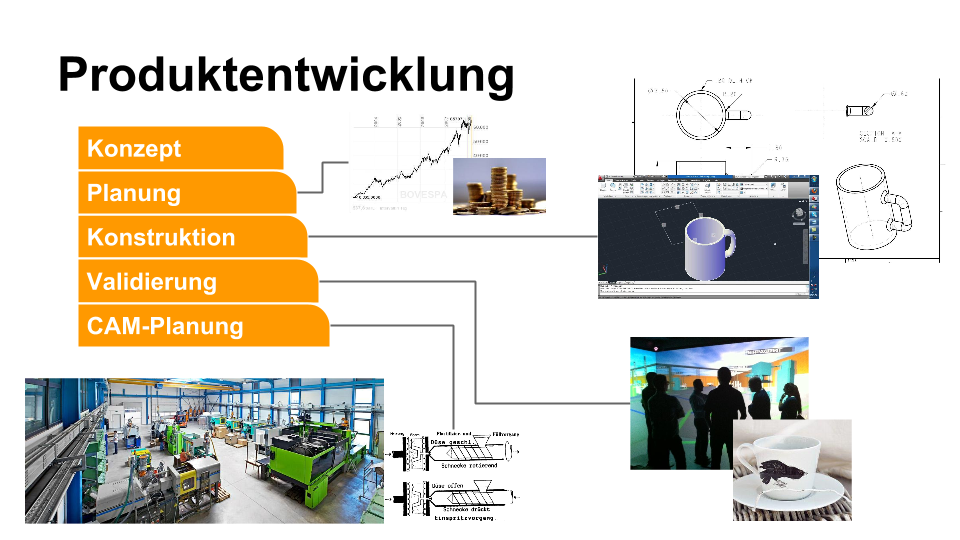 Learning Factory 4.X Practical Course
The virtual learning factory is a unique teaching event. It offers the opportunity to experience the creation of a product in an interdisciplinary team like in a startup. On our Youtube channel you can watch the results of previous semesters. The event is not only interdisciplinary, but also cross-university. The following institutes are involved:
IMI at KIT
Students at the KIT model the production halls and machines that are to be used for small series. The entire process of virtualizing production is being worked on. Depending on the data basis, CAD designs, process information and metadata can be used for mapping and planning the production phase. The software used, PolyVR, is a software developed at IMI for the use of VR for engineering applications. No programming skills are required, the purpose of the course is to introduce students to the use of VR technologies.
The IMP at the HS Karlsruhe
The students at the IMP design the products in CAD, do the CAM planning and manufacture the small series. Important interfaces are the CAD and CAM data which are transmitted to the KIT students for the virtualization of the production.
The Faculty W at the HS Karlsruhe
The students of the Faculty W accompany the product development and production with the market aspects. They control the concrete product definition and design by market research activities, take over the project control and project controlling as well as the development-accompanying product calculation. In addition, you will be involved in production planning and the manufacture of small batches, and you will test possibilities for marketing the products.
Challenges
The KIT students join us a little later in the semester because the semester does not start at the same time at both universities. On the other hand, the majority of the event is over well before the end of the semester. Time plays a key role in this course as all steps of the product development are to be gone through.
The universities are 1.5 km away from each other, the local distance as well as the separation by the fields of study and tasks are a certain challenge for the group dynamics and communication that the students have to master.
Organizational
Where: IMI, Kriegsstr. 77, 3rd & 4th Floor
Rooms and resources are always available on Thursdays from 14:00 - 15:30.
The pool rooms can also be used during the week.
ILIAS: see link above
Practical Course Schedule