AG 2: Knowledge Management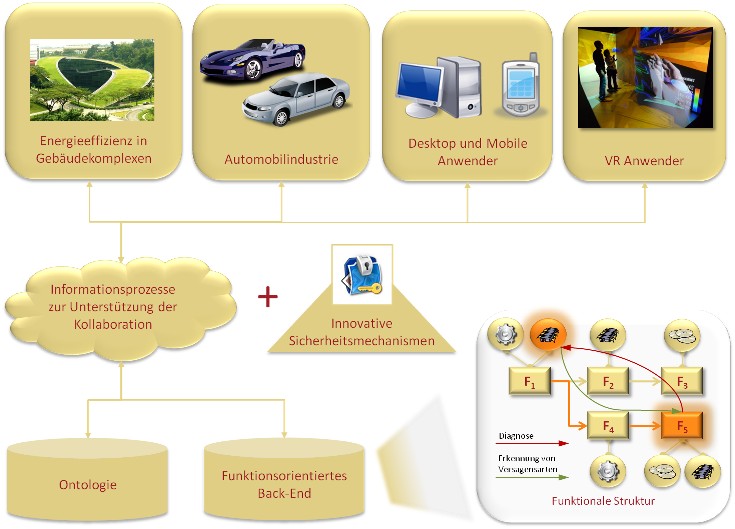 Das Forschungsziel der Gruppe ist die methodische Unterstützung und Optimierung der interdisziplinären Zusammenarbeit zwischen Benutzern und Systemen aus unterschiedlichen Bereichen des Engineerings. Kernpunkt der Forschung ist die Identifikation und Entwicklung von robusten Informationsstrukturen, die über verschiedene Fachrichtungen und Phasen des Engineeringprozesses hinweg stabil bleiben und zur Verwaltung und Organisation der interdisziplinären Zusammenarbeit in diesem Prozess genutzt werden können. Solche Strukturen ermöglichen die effiziente und effektive Gestaltung und Nutzung einer Wissensbasis zur Lösung von komplexen Problemstellungen in vernetzten, virtuellen Organisationen. Als Ausgangsbasis zur Findung und Erstellung dieser stabilen Strukturen sollen funktionale Modelle, Informationsprozesse und funktionsorientierte Ontologien herangezogen werden.
Die praktische Umsetzung findet in den folgenden Anwendungsbereichen statt: intelligentes Energiemanagement für Gebäudekomplexe und Produktionsstätten, wissensbasierte Problemdiagnose in Unternehmensnetzwerken sowie kollaborative, mit innovativen Informationssicherheitsmechanismen versehene Designumgebungen für ultramobile Endgeräte. Diese Bereiche werden dabei durch folgende Gemeinsamkeiten charakterisiert: komplexe Informationsflüsse in hochgradig vernetzten Strukturen und Systemen, schwer überschaubare funktionale und kausale Abhängigkeiten zwischen den Teilsystemen und Komponenten, komplexe Problemanalyse und –behebung, globale Auswirkungen lokaler Änderungen.
Mitarbeiter:
Projekte:
laufend:

KnoHolEM: Knowledge-based energy management for public buildingsthrough holistic information modeling and 3D visualization

abgeschlossen:

ImportNET: Intelligent modular open source Platform for intercultural and cross-domain SME-Networks (EU-FP6) (07/2006-06/2009)
Publikationen:
Marinov, M.; Ovtcharova, J. (2009). Funktionsorientierte Testkonfiguration in der Mechatronik, CADCAM Report 06/2009.
Schubert, P.; Marinov, M.; Ilieva, I.; Ovtcharova, J. (2008). Funktionsorientierte Wiederverwendung, CADCAM Report 12/2008.
Marinov, M.; Schubert, P.; Ovtcharova, J. (2008). Funktionsorientiertes Change Management, CADCAM Report 09/2008.
Ovtcharova, J.; Marinov, M. (2008) Function based identification of affected components in cross-domain engineering, International Conference on Computer Systems and Technologies – CompSysTech '08 Proceedings.
Marinov, M.; Krappe, H.; Ovtcharova, J. (2007) Innovative mechatronische Produktentwicklung in virtuellen Umgebungen, CADCAM Report 09/2007.
Marinov, M., Krappe, H.; Ovtcharova, J. (2007). Anwendungen der Funktionsmodellierung, CADCAM Report 06/2007.
Krappe, H.; Marinov, M. (2007). Funktionsmodellierung in der virtuellen Produktentwicklung, CADCAM Report 03/2007.
Marinov, M., Gutu, D., Todorova, J., Szotz, M., Simonyi, A., Ovtcharova, J. (2011). Representation of Cross-Domain Design Knowledge through Ontology based Funcitonal Models, 18th International Conference on Engineering Design (ICED 2011), editors Howard, T.J., Mougaard, K., McAloone, T.C., Thorp Hansen, C., ISBN: 978-1-904670-32-2, ISSN: 2220-4342, 15 - 18 August 2011, Kopenhagen, Denmark, pp. 456 - 467.
Krahtov, K., Rogalski, S., Wacker, D., Gutu, D., Ovtcharova, J. (2009). A Generic Framework for Lifecycle Management of Heterogeneous Building Automation Systems. Proceedings of the19th International Confernece for Flexible Automation and Intelligent Manufacturing (FAIM 2009), editor Nabhani, F., SIBN 9781615676279, 6 - 8 July 2009, Middlesbrough, UK.
Anspach, K., Gutu, D., Ovtcharova, J. (2006). Integration von Bewegungsabläufen in den Digital Mock-Up bei der Adam Opel GmbH. Proceedings of the 9th IFF-Wissenschaftstage "Virtual Reality und Augmented Reality zum Planen, Testen und Betreiben technischer Systeme", editor Schenk, M., ISBN-10: 3-8167-7124-6, ISBN-13: 978-3-8167-7124-1, 21-22 June 2006, Magdeburg, Germany, pp. 60 - 70.
Culha, B., Gutu, D., Mast, M., Ovtcharova, J. (2004). Pro-Teach-Net: Standortübergreifende Produktentwicklung in virtuellen Studententeams. Proceedings of the 10th Tagung der IuK-Initiative der wissenschaftlichen Fachgesellschften, editor Wiemeyer, J., ISBN 3-88020-448-9, 11 - 14 March 2004, Darmstadt, Germany, pp. 94 - 99.
Ilchev S., Ilcheva Z. (2011). Protection of Intellectual Property in Web Communities by Modular Digital Watermarking. Proc. of COMPSAC 2011 (The IEEE Signature Conference on Computers, Software and Applications), 35th IEEE Annual Computer Software and Applications Conference Workshops, E-ISBN 978-0-7695-4459-5, Print ISBN 978-1-4577-0980-7, DOI 10.1109/COMPSACW.2011.69, INSPEC 12288790, 18 - 21 July 2011, Munich, Germany, pp. 374-379.
Ilchev, V.; Ilchev, S. (2011). A classification method based on two separating hyper surfaces, CompSysTech '11: Proceedings of the 12th International Conference on Computer Systems and Technologies, Editors: B. Rachev and A. Smrikarov, ISBN 978-1-4503-0917-2, DOI 10.1145/2023607.2023633, 16-17 June 2011, Vienna, Austria, pp. 149-154, published by ACM New York, USA 2011.
Ilchev, S.; Ilcheva, Z. (2010). Modular Data Hiding for Digital Image Authentication. IADIS European Conference on Data Mining, July 2010, Freiburg, Germany (in press).
Topalova, I.; Tzokev, A. & Ilchev, S. (2007). A Preprocessing Method and Classification of 2D Objects Using Neural Networks. Annals of DAAAM for 2007 & Proceeding of the 18th International DAAAM Symposium "Intelligent Manufacturing & Automation: Focus on Creativity, Responsibility and Ethics of Engineers" Editor: B. Katalinic, ISSN 1726-9679, ISBN 3-901509-58-5, November 2007, Zadar, Croatia, pp. 767-768.
Topalova, I.; Ilchev, S. (2006). A preprocessing method and rotation invariant 2D object recognition using BPG neural networks. Proceedings of the International Conference "15 Years FDIBA", ISSN 1310-3946, November 2006, Sofia, Bulgaria, pp. 185-190.